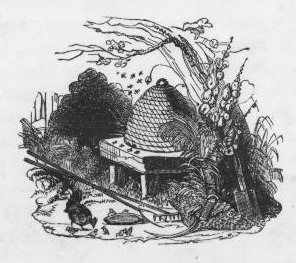 I was helping Númenor with some phonics work today and realized that he didn't know the word "spell" in the context of orthography.
So, like good unschoolers, we made a guess, and then we looked it up, first in a regular dictionary, then in an etymology dictionary.
"Spell" is a fairly interesting entry, and I recommend it if you're into that kind of thing, but as Númenor went back to the normal 4-year-old puttering that is his main learning activity, I wandered off along a tangent from "spelling" to "spelling bee" and finally ended up reading about idiomatic uses of the word "bee":
To

have a bee in (one's) bonnet

(1825), said of one who is harebrained or has an intense new notion or fancy, is said in Jamieson to be Scottish, perhaps from earlier expressions such as

head full of bees

(1510s), denoting mad mental activity.
HEAD FULL OF BEES!
Headfullofbees!
Head.  Full.  Of.  Bees.
How did this phrase EVER go out of vogue?  Google Ngram has it appearing in about three hundred MILLIONTH percent of books at its most popular.  WHY?  Why would anyone not want to use this phrase?
HEAD full of BEES.
As in, "I was up until 3am with my head full of bees, but I finally cleared my thoughts and fell asleep."
As in, "He doesn't say much, but you can see he has a head full of bees."
As in, "She came in here with a head full of bees and we couldn't get one coherent word out of her until she'd had two pints, but it's a brilliant idea."
It's evocative, it's suitably agrarian, it sounds a little anachronistic and a little rustic, maybe even agrestic, and it describes something that happens to me all the time– my head is always full of bees!
Head.  Full.  Of.  Bees.
This is my new thing.  I'm going to say this all the time!  I might get it tattooed on my arm, I love it so much.
My head is full of bees. Perfect.