Today is Indigenous Peoples' Day in America.
At least it is in the blue states.  In the cities that try to make the streets safe for people instead of safe for cops.  In the jurisdictions overseen by the kind and conscientious instead of the hateful and fearful.
In the other places, the red districts, the small towns with cowboy-hatted bigots masquerading as a real government, today isn't Indigenous Peoples' Day.  It's something else.
So it goes.
The US government gives us a Day for Washington, who created a legal process for recapturing human property in jurisdictions that had outlawed slavery.
A Day for all of the 45 men who have managed to become president, by whatever deeds, fair or foul, to share between them.
A Day for all the bluecoats, regardless of what they did or whether they wanted to do it, whether they were monsters looking for the chance to kill or were shattered inside by the first gunshot they were forced to fire.
A Day for all the bluecoats who died because one of those 45 special men couldn't use their words to solve their problems.
A Day for workers, which most workers don't have off, and specifically scheduled to undermine the legitimacy of the labor movement.
A Day for Jesus.
A Day for pretending that dangerous, violent, repressive religious extremists DID, in fact, receive a whole hemisphere of the earth as a present from their god, and the local native people were happy to be their magical savages.
A Day for congratulating all the above parties on how they totally 100% successfully created a great Enlightenment Eutopia.
A Day for Martin Luther King, Jr., killed by a "lone wolf" acting out the government's wishes, for being audacious enough to dream of a day when his children could have white friends.
A Day to mark the beginning of a new Gregorian calendar year.
And, on paper, a Day for Christopher Columbus, a religious fanatic who stole things and people from dozens of foreign nations to present them as tokens of conquest to the architects of the Spanish Inquisition.
We're supposed to feel grateful that the millions of people who were killed, raped, tortured, kidnapped, enslaved, brainwashed, imprisoned, disenfranchised, and stripped of their families, possessions, homelands, languages, cultures, and identities by the legacy of this "explorer" are allowed to share his Day of recognition.
Because that makes it all better.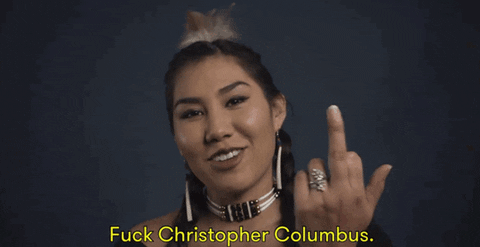 Columbus Day is a recent holiday, created because a particular, influential group of male, Catholic Italian-Americans didn't feel like they were getting enough white privilege.  They wanted someone who was like them to be upheld as part of the American identity.  They wanted recognition of Italian and Catholic contributions to the US built into the myths of white American national identity.
There is no holiday specifically setting out Irish or German or Welsh or French or Greek or Ethiopian or Congolese or Sioux contributions to American history.
There is no holiday celebrating a great hero of atheism, Buddhism, Protestantism, Islam, or Judaism for their contributions to American history.
There is no holiday celebrating the contributions of queer people to American history.
There is no holiday celebrating an American woman, or even ALL American women generally, for contributions to American history.
There is no holiday recognizing that the state machine of the US was built by black slave labor, greased with native blood, powered by the sacrifices of unpaid femininity, maintained by a constant ingress of disenfranchised and vulnerable immigrants, and run on tracks laid by indentured Chinese immigrants over land stolen from native communities through more than a century of war.
Bullshit excuses and band-aid solutions like national "observances" of a "history month" won't cut it.
Native people have been victimized by the United States from its infancy.  It's time for the government to take responsibility for that legacy.  It's time to be honest about it.
It's time for white Americans to learn that the history of the oppressed is the history of the oppressor as well.  It's time to own it, to face what happened, and do better moving forward.
It is Indigenous Peoples' Day in America.  Today.
What will tomorrow be?