I can't write about knitting or sewing this week.
I can't.
Too much has happened to me this week.  There's too much anger and sadness in me to compose a few blithe paragraphs about handwork right now.
I want to share with you what's on my mind instead of what's in my work bag today.
Today is the first day after the heat wave here on the west coast.  I know that the majority of media sources in this country have just started to cover the record-breaking heat, because, as with most things, if it doesn't happen at least as far east as Chicago, it might as well have happened in another country.
Don't get me wrong, I love living on the frontier.  I love standing knee-deep in the Pacific, looking west, and feeling the wilderness around me.
But I didn't hear about the oil train derailment that happened a scant 10 miles from my house for hours after the fact, and even then it was only because I went to a local news website trying to figure out why there was so much traffic stacked up on highway 30.
We were so very lucky in Mosier.  If the train had crashed the day before, the winds would have made the fire worse by orders of magnitude.  If the explosion or fire had been bigger, Mosier would have lost a school, homes, lives.  If it had been raining, which it frequently does in early June, there would have been no way to mitigate the spill of oil into the Columbia.  If the derailment had happened 10 miles further west, it might have taken out a freeway overpass, a number of local businesses, or even my house.
My house.  Where my children live.
I've been fighting against the bomb trains for years.  And this one nearly got me.
By contrast, I was quite physically safe from the Stanford rapist.  But as I read the victim's statement and the letter the rapist's father wrote to the judge, I wept the angry, familiar tears of someone who has lived her whole life embroiled with rape culture.
I remembered the first time I was sexually harassed– in line at the drinking fountain, in kindergarten, age 5– and I remembered how embarrassed I felt.  How I stood there stupidly and let him keep touching me even though my stomach was knotting up and my legs wanted to run.  How the words he said were permanently etched into my psyche.  How I never told anyone.  How I felt ashamed by the incident, like it was my fault.
The little boy who groped me and made sexual comments about my prepubescent body probably doesn't even remember that it happened.
I remember him, though.  I remember his name, his face, his hair cut, even though we moved across the state the summer after I finished first grade and I haven't seen him since.  And when I hear about men who are so assured of their right to touch women, who feel as entitled to their sexual attentions as the Stanford rapist obviously does, I think about that boy and I wonder if he ever learned about consent.  If he became the kind of guy who tells rape jokes and makes his sexual partners feel obligated to engage in acts they don't enjoy.  If he went on to rape someone at a frat party in college.  If he became one of the relatively few men who are serial rapists– how many victims would he have by now, at nearly 30 years old?
I think it's that survivor's sensitivity that made me uncomfortable with Bernie Sanders from the beginning.  I wanted to like him.  I bought into the hype of his being a challenger from Clinton's left who would force her left during the primary at least.  But then, I watched him debate with her.  I heard the dogwhistles when he accused her of "yelling", tried to paint her as manipulative and dishonest, insinuated that she could be bought.  I read the things he wrote about women and sexual relations when he was younger.  I watched him treat his wife with incredible disrespect onstage at a public event.  I heard the contempt in his voice when dealing with female reporters.  I heard him insist that people who didn't support him didn't know their own best interests.  I watched his campaign double down on the idea that supporting Clinton because she's a woman is stupid, wrong, even traitorous.
I watched him lie and cheat and steal and take no responsibility.  I watched him blame everyone else for his problems.  I watched him allow his supporters to run wild, threatening women and disrupting events.
I voted for Hillary Clinton.  Because women's rights are human rights.  Because she listens to people and genuinely cares about them.  Because she plays by the rules.  Because she cares about indigenous people's issues.  Because she has been a tireless advocate for the rights of children and women for her entire life.  Because she's always been ahead of the curve on LGBT issues.  Because her staff is diverse and well-trained and highly skilled.  Because she admits it and apologizes when she is wrong.  Because she says the word "abortion".
Last night Clinton became the presumptive nominee.  The first female major party nominee ever.  EVER.  I watched her speech.  I watched the commemorative video.  I cried.  I was so proud to have been part of getting her this far.  I was so excited for the general election.
This morning I read the news and learned that at his event last night, Bernie Sanders, who has repeatedly claimed that he's an advocate for women, allowed 15 seconds of booing and hissing directed towards Hillary Clinton, the nominee of his party and the first woman EVER to be a major party nominee for president.  He didn't even recognize the glass ceiling she shattered this week.
I realized that he doesn't see her.  He doesn't see women.  He doesn't see ME.
And I've had about enough of being trivialized and ignored.  I'm done being relegated to the sidelines.
I have no more patience for those who marginalize me, be they east-coast-centered mainstream news sources, legislators who insist that shipping oil by rail is safe, teary-eyed rapists who think they've done nothing wrong, or political candidates who think it's irrelevant whether they actually have a good record on women's issues or just say they do in interviews.
My life is too wild and precious to spend it legitimizing all this bullshit.
So I am renewing my declaration of war against the patriarchy this summer.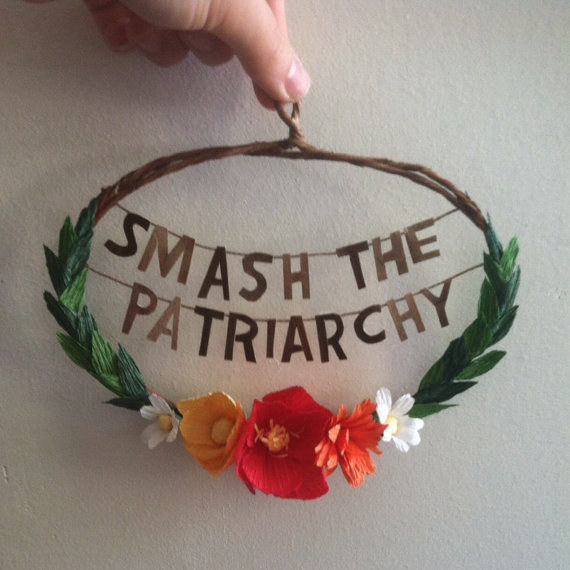 And that is the work I have in progress this week.